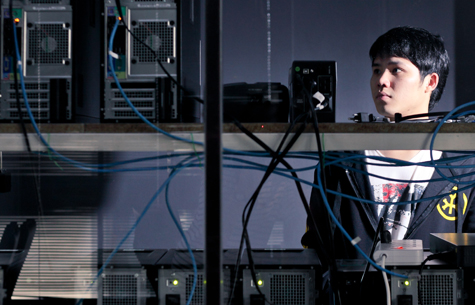 TIME TO TELL
The winner of the Best of the Shows Award at 2012 Degree Shows, Pidok Moomuensri shares the secret to creating a great animation with art4d.

Pidok Moomuensri
Animator
paowunjin@gmail.com
Creativity holds the power to bring about new possibilities, shape up intangible prospects for the future and initiate new innovation and ramification of ideas.
The 6th Degree Shows hosted yet another impressive collection of many great thesis projects, and after intensive selection and judging sessions, winners from different categories were announced at the event. One of the most outstanding and talked about projects of the event is the winner of Best of Animation and Motion Graphic category titled, 'Times' by Pidok Moomuensri, an animation design graduate from the Faculty of Information and Communication Technology at Silpakorn University.
'Times' is a story of a compulsive hard-working man who spends all his time with piles of papers on his desk without caring about anyone or anything around him. One day he comes across a mysterious train that takes him back to his childhood. There he meets an acquaintance, who is waiting for his 'time'.
"I want the work to depict the story of everyday life; something people can relate to. I want my story to give something to the people who see it. It's understandable, accessible and it persuades people to think about what they see. Good animation has to have aesthetic elements - a fun storyline, beautiful artistic compositions. My favorite animations are Ratatouille, Avatar, The Dark Knight, and all have these elements, which is probably why they capture the hearts of so many people. One of the people who has been my inspiration is Pon Thiramongkol, one of the animators of the international award winning animation team SIGGRAPH 2009. He is also my professor and has taught me so many things, not just about animation but also about his life and working experience."
When asked about the most significant leap in the animation industry, Moomuensri says "I think it's the development of technology that changes the face of animation. Now, with the Internet and everything knowledge and techniques are more accessible. There are 3D and 4D technologies for the cinema and television that support animation and computer graphic technology, offering viewers new and exciting visual experiences. Animation is becoming more and more recognized and an acknowledged field of study and profession. Increasingly educational institutions see the potential of animation and they have been developing courses, a curriculum, bringing in experienced instructors who have been working in the field, to educate the students with their best ability."
Moomuensri is now having fun working at a CG house in Thailand where most of his responsibility is in the advertising sector. His current position is 3D General, which involves the entire process of 3D animation, from making primary models to rendering the finished work.
"Mostly I take care of the light rendering. Most advertising projects have limited working time so most CG officers are able to do a lot of things. I'm scouting for experience because there's still so much to learn. Being in the actual working environment is a lesson as well. I plan to further my study in the field and come back to work on what I love. In the future, I hope I can become a teacher and teach someone what I have learnt, and maybe open my own company one day." For now, check out his winning animation project at http://www.degreeshows.org
TIMES from bangkokdesignfestival on Vimeo.